The Niagara Migrant Workers Interest Group (NMWIG) is pleased to join the Canadian Council for Refugees (CCR) and other local organizers for a full-day meeting for migrant workers and people working with or advocating for migrant workers.
Some topics that will be addressed at the forum include navigating healthcare for migrant workers: barriers and strategies, setting up healthcare services for migrant workers, a federal and provincial overview of policy changes and their implications, and novel partnerships: civic and institutional engagement with migrant workers, and more!
**Space is limited, so please register here by Friday, November 24**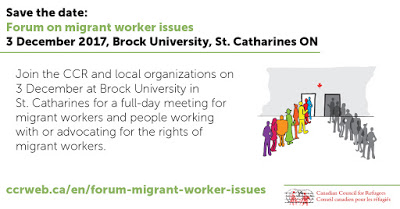 If you have any questions, or for more information please contact us today!